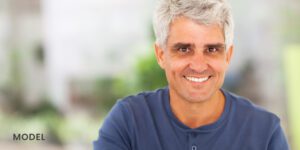 If you have loose teeth caused by gum recession, you may think you are doomed for tooth loss. But that is not the truth! With the advances in today's dental technology, periodontists like Dr. Karbakhsch and Dr. Katafuchi can save your teeth by performing a procedure called gum grafting.
The personal and friendly approach provided by our entire team at MK Periodontics and Implants is one of the reasons why so many men and women visit our doctors for gum grafting procedures. If you have been told that you are at risk for tooth loss, do not wait any longer to call our periodontists for an initial consultation.
What You Need to Know About Gum Recession and Tooth Loss
Oftentimes, gum recession is the main cause of tooth loss. This condition occurs due to a broken gum seal that allows food debris and bacteria to become lodged between the gums and the tooth. These tiny particles cannot be brushed away; therefore, they will fester and eventually lead to infection. As the infection grows, the gums will begin to recede and deteriorate, meaning they will pull away from the tooth and shrink. Sometimes, gum recession progresses to the point where the root of the tooth is visible. Not only is gum recession painful, but it causes cosmetic concerns as well. If your primary dentist has detected signs of gum recession, he or she will recommend you see a trusted periodontist like our doctors to discuss treatment so you can prevent tooth loss.
Gum Grafting with Our Periodontists
Our doctors understand that many patients may be anxious about having a gum grafting procedure. However, we want you to know that our entire team is here to make your experience as relaxed, open, and friendly as possible.
Your gum grafting procedure at MK Periodontics and Implants will be fully customized to meet your needs and provide you with optimal results. Our doctors use several minimally invasive gum grafting techniques when replacing lost gum tissue. Sometimes they will use tissue from the patient's own body, and other times they may use donor tissue to carefully design a new gum line and prevent tooth loss.
Dr. Karbakhsch and Dr. Katafuchi perform most gum grafting procedures in-office under either light oral sedation or IV sedation, depending on the severity of the gum recession
Once our doctors have confirmed that your gums have fully healed, your smile will be restored and your teeth will be protected. It is important to adhere to the recommendations our periodontists provide after your gum grafting procedure to ensure your gums remain healthy, and you are protected from tooth loss for a lifetime.
Visit Our Doctors in Tacoma Today!
With years of experience restoring the gums of patients threatened by tooth loss, you can trust Dr. Karbakhsch and Dr. Katafuchi to prevent tooth loss for you, too! To find out more about gum grafting or schedule an initial consultation in our office, simply call us today at (253) 752-6336, and a member of our friendly team will be happy to assist you.